In which industries can AR be used in employee training?
According to a report, 65% of the jobs of the future are not yet created. These figures cause headaches to learners, teachers and employees all over the world. The global economy forces employees to have a whole range of different skills that cannot be acquired and developed in a single job all their lives.
Unfortunately, traditional learning methods are relatively ineffective in acquiring these skills. The future is difficult to predict, but it can be assumed that we are moving in the direction of visual teaching, which is the use of AR technology in employee training.
An employee will only be able to target his or her phone at the product in order to immediately receive appropriate training on what he or she should do. All these can happen today a smartphone is all you need.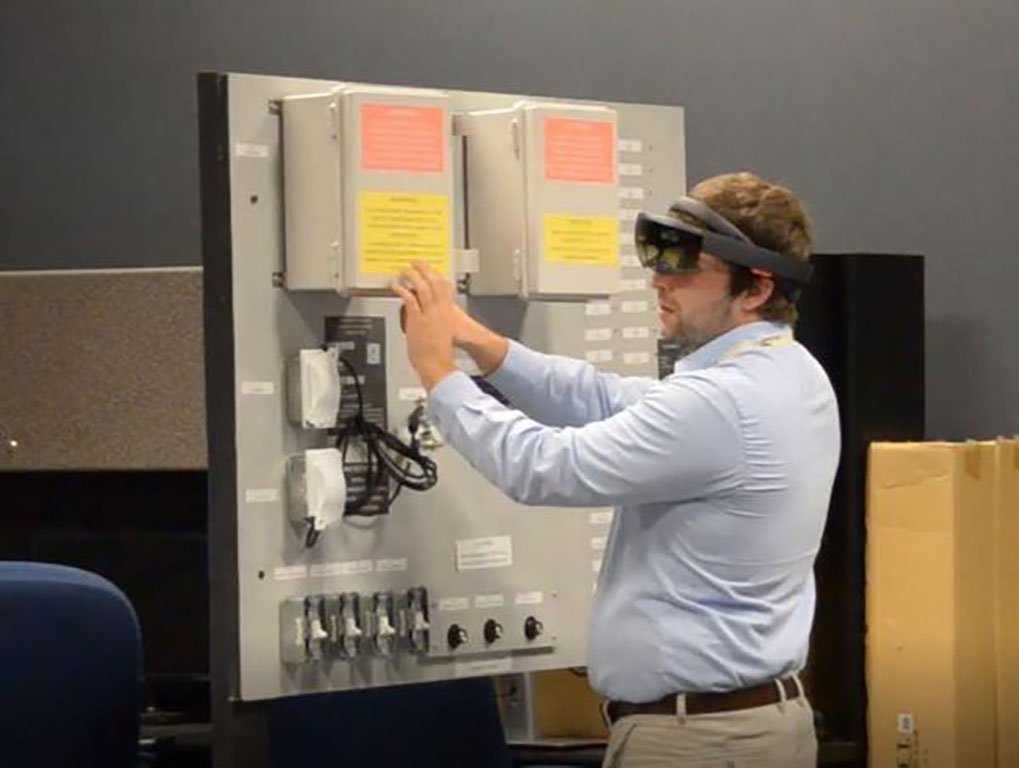 Installation of machinery and repairs
The need to constantly refer to the instructions can negatively affect the efficiency of the employee and the installation and repair of the machine. Employees need to understand the next steps and to be able to imagine how to use the tools to put everything together in the right way. The use of tutorials in the form of AR can give the employee a quick and, above all, visual demonstration of the next steps.
Occupational health and safety training
Safety training is often the top priority in many industries. In particular, manufacturing sectors are filled with all kinds of risks – new workers often undergo rigorous training to avoid damage to their health and, in some cases, even death. As production zones continue to develop, employers need to constantly train their employees to ensure their safety.
You can read more about the use of VR in employee training here.
Medical training
The healthcare sector is extremely complex and constantly evolving. Continuous challenges, new forms of treatment and regulations mean that regular on-the-job training is essential. An enlarged reality can create opportunities throughout the sector – for example, thanks to the AR, nurses can call up information on a given medicinal product and how to apply it. The surgeon, on the other hand, can learn how to perform an open heart operation – without risking the patient's health. Books and training mannequins have their limitations, which do not apply to AR training.
Sales training
A survey conducted by the Association for Talent Development has shown that traditional forms of sales training are ineffective – in some cases, they require too much time from the trainee and are often passive and not interactive. Thanks to AR, it is possible to create very engaging materials, which can be used in any situation. They can be easily updated with changes in the company or industry. Dealers themselves can make immersive sales presentations, which will further improve their contact with the customer.
Specific application examples
Just-in-time augmented learning
In a technique called just-in-time augmented learning, employees can use AR to acquire relevant training information, which plays an important role in informing them about their tasks and responsibilities. Information can be acquired without the need to reach for a laptop, computer or tablet, as all the information is directly contained in the AR – the so-called smartglasses. Thanks to such digitalisation, the learning process can be integrated into the work itself, which contributes to a smaller dispersion of the employee.
The video demonstrates how an employee can use the augmented reality to improve their workflow. The tool tells you what to do and what steps to take – all in the form of check boxes.
Car repair and maintenance
In 2015, Hyundai became the first global car manufacturer to launch a car manual in the form of augmented reality. Using a smartphone or tablet, we can obtain accurate information about repairs, maintenance and operation of the car's functionality. The application contains instructional videos, three-dimensional images that appear when the user scans specific sections of the car (such as the engine compartment). Hyundai expanded its user manual program in 2016.
Thanks to AR, even inexperienced people can identify problems and carry out repairs with step-by-step instructions.
Undoubtedly, similar functionalities can also be applied to the training of the employees themselves.
Summary
The use of AR in employee training gives a lot of opportunities. The augmented reality reduces learning time, provides better trained employees and contributes to a more efficient workplace. AR training will soon become a standard. So be sure you'll also quickly make a use of it.